"Without DEPOT Software, my cleaning process would be chaos."
CLEANING CONTAINER STOP BARCELONA (hereinafter referred to as CCSB) is committed to providing the best services and facilities to its customers. The site covers a total area of 133,000 m² and consists of warehouses, washrooms, and workshops. CCSB has eight cleaning places for ISO-tanks, and they clean (also kosher) according to the EFTCO guidelines.
We asked Robbert de Leeuw, Operational Manager, about his experience with DEPOT Software.
Robbert has been working at CCSB for almost 10 years. As operational manager, he is responsible for all activities related to cleaning.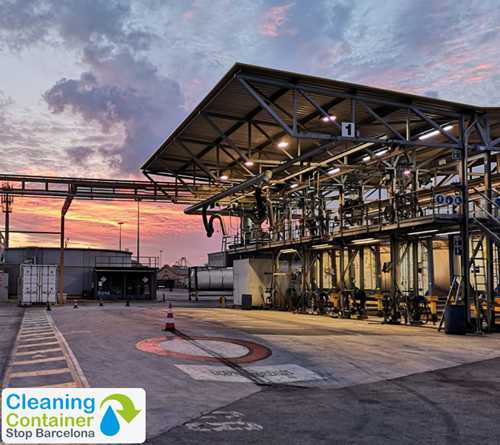 Why CCSB chose DEPOT Software
After the merger of various activities, CCSB looked for software to support the cleaning services. "Through positive noises in the market, we heard from several parties who already worked with DEPOT Software) and ended up at a Dutch cleaning station as a referee. DEPOT Software contained all the functionalities to function properly as a one-stop-shop."
The use of the software
CCSB has chosen to use the cleaning module in DEPOT Software in which you can arrange everything for a tank cleaning such as:
Create staging orders.
Tank container data tracking
Commitment of previous products
Programming washing programs
Washing receipts and BPM instructions
Generate ECD's
Invoicing
"Without DEPOT software, my cleaning process would be chaos," says Robbert. "The biggest advantage for the cleaning is that everything is presented as a unit. The activities that have to be executed, based on the container lifecycle the entire workflow, is created automatically. It is a controllable process with functionalities that ensure a container leaves the depot clean.".
SQAS certified
In addition to the cleaning module, the CCSB also uses the SHEQ (Safety, Health, Environment and Quality) module. Auditors from SQAS and others experience the benefits of this. "Auditors like the fact that with DEPOT Software the relevant information is stored. Other documents and certificates support this data."
About DEPOT Software
DEPOT Software is an independent software supplier, providing operational depot management software solutions for the ISO tank container industry. Founded in 1996, DEPOT Software strives to provide the safest, most accessible and environmentally friendly working environment on and around the depot site. With the depot management system gain insight into your data so that you can quickly adapt to changes in the sector and can build the future of your business.
At the support desk you will be spoken to in Spanish, and we are available 15/5 or 24/7.